When there was about 30 minutes left of cooking time on the Mini Crockpot Meatloaves, I started my side dishes. The Smashed Red Taters took all of 15 minutes! Wash your red potatoes and slice them in half. I used 8 potatoes for a family of 6 (I didn't want a whole bunch of leftovers). Add them to the Instant Pot, then add water. Make sure the water covers the top so that the potatoes are completely submerged. Turn it to manual pressure cook, set the time for 10 minutes. When they're finished cooking, do a quick release on the vent and let the steam out. Once the steam is completely released, take off the lid. Using a slotted spoon, take all the potatoes out of the water & into your serving dish. Add 3-4 tablespoons of butter & about 1/3 – 1/2 cup of Half & Half or whole milk (the amount will depend on how large your potatoes are & your desired consistency). Add salt & pepper or garlic pepper. Smash thoroughly with a potato masher. VOILA! My 16 year old said these were the most amazing mashed potatoes she's ever had. And she's a mashed tater connoisseur. 🙂
(Side note: I read on-line that red potatoes shouldn't be used in an Instant Pot for mashed potatoes because they're too waxy. What a crock!! Do it. You won't regret it.)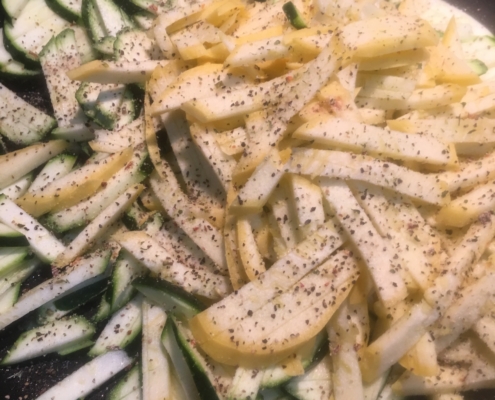 Sautéed zucchini noodles are the easiest side dish ever & take all of 7 minutes. The hardest part is the chopping. So while the potatoes are in the Instant Pot, start the zoodles. To get a consistent thickness, I used the mandolin. What you see is 4 zucchinis, 2 green & 2 yellow.
Heat the oil in the pan on medium (I used avocado oil because it's is nice & light & doesn't have a taste like olive oil does). Season with salt & pepper or garlic pepper & sauté until desired doneness. I like to see lightly browned edges on the zoodles but don't want them to be mushy. 5ish minutes is about all it takes. These make an awesome side dish for a variety of things. Sometimes we use them in place of pasta noodles with meatballs & tomato sauce. They're so versatile & easy. ENJOY!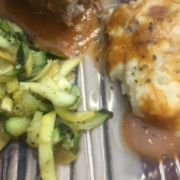 Print Recipe
Zoodles & Instant Pot Smashed Red Taters
2 perfect side dishes that compliment many meals & will be finished in about 15 minutes
Ingredients
8

red potatoes, cut in half

water to cover

1/2

cup

half & half or whole milk

4

tbsp

butter

2

tbsp

avocado oil

4

zucchini, combo green & yellow

salt & pepper or garlic pepper to taste
Instructions
Wash the potatoes & cut them in half. Cover them with water in the pot of the Instant Pot.

Set the pressure on high for 10 minutes. Add the lid.

Heat the oil in a large pan to medium heat. Slice the zucchini on the mandolin using the slicer that looks like a comb (with all the teeth).

Add the zoodles to the hot oil. Sprinkle with salt & pepper or garlic pepper. Sauté for about 5 minutes, stirring occasionally.

When the time is done on the Instant Pot, do a manual release to let out all the steam.

Using a slotted spoon, transfer the potatoes to a large bowl. Add the butter & half & half or milk. Sprinkle with salt & pepper or garlic pepper. Mash with a potato masher until it's well incorporated & at the desired consistency. It might be necessary to add a little more milk.

Serve hot.
https://kristisfamilykitchen.com/wp-content/uploads/2019/01/IMG_1189-1-1-e1548524772786.jpg
2227
2983
Kristi Lussier
https://kristisfamilykitchen.com/wp-content/uploads/2019/01/Kristis-Family-Kitchen-300x180.png
Kristi Lussier
2019-01-25 18:35:59
2019-01-28 21:04:03
Zoodles & Instant Pot Smashed Red Taters